We started early on a beautiful Wednesday morning with sunshine and a light northerly wind. The gennaker went up as soon as we had left the buoy. It carried us most of the way through the archipelago of Gothenburg and across the shipping lanes to Gothenburg harbour, Swedens largest port. Luckily, there was very little traffic as it was bank holiday.
The wind had been steadily increasing and it was time to go from gennaker (only) to main and genoa wing and wing as we reached open water south of Gothenburg. We have learned the hard way in the Med (see Porto Kayio and Aguadulce) not to keep the gennaker up to long in an increasing breeze. It was, even in the moderate 16 knots we had, hard work to furl it.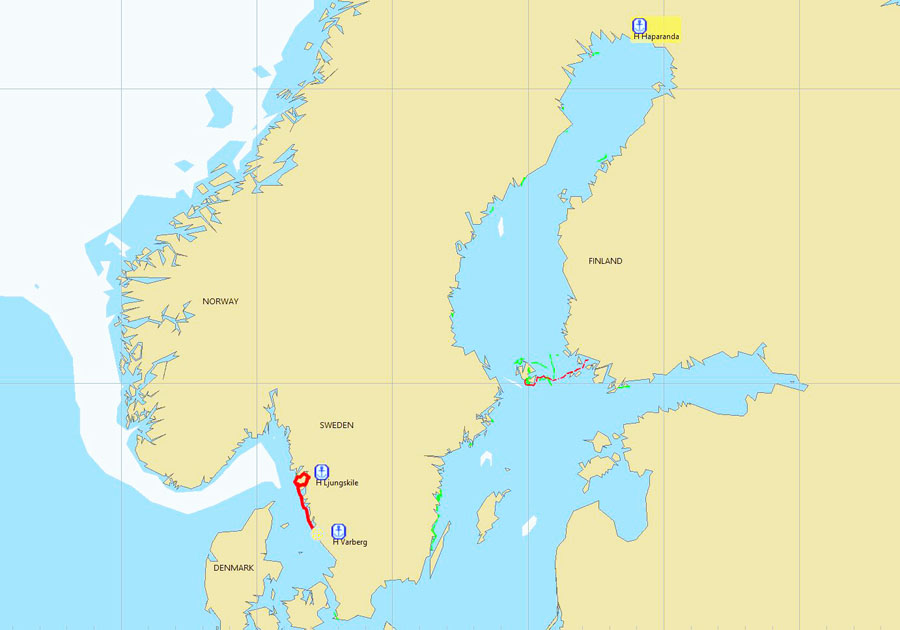 The trick we use is to run the engine quite hard to reduce the relative wind while we furl. And in the end, we often find as we did this time, that the speed down wind is only marginally reduced when we have the main up and the genoa on the boom. The clouds had been building from the south and we sailed through a rain front before arriving. We heard the thunder but, luckily it strayed inland.
With following winds all day, we sailed the 50+ miles down to Varberg in 10 hours. We were greeted on the dock by friends Lars and Anita on the ketch Tindra.

We spent a day here yesterday exploring by bike. The surroundings are beautiful and Varberg is a very nice old town. The centre still has many of the small wood houses left since early days. Many nice cafes and restaurants and all the shopping you need. Hakan finally got himself a new windbreaker, his beloved old Hery Loyd died of old age a year ago and has been missed ever since.

Varberg is a favourite of ours. The city has a history of being a garrison town with its fortress guarding the harbour. Later it became a sea side resort and it is still home to some nice spas. There is a lovely sand beach just outside the old harbour. We were lucky to experience it on a sunny day.

Fog rolled in in the afternoon and it has been raining cats and dogs since last night. We will leave Sally today for a week of work and family gatherings. Hakan is planning to come back Saturday with a friend to continue south on Sunday, weather permitting.