We sailed from Lappo in the afternoon in sunny summer weather. As the fairways wound their way through the archipelago, we had everything between tacking upwind (but not much), fast reaches and pleasant downwind sailing.

We anchored for the night in a bay near Nasbyn (Näsbyn) on Houtskari. Hakan was trilled to see notes in the old sailing directions from 1985 about depths. We think we put the anchor down in almost the same spot he had done then. The bay now boasts a marina, but we wanted some peace and quiet. The evening turned out to be magical.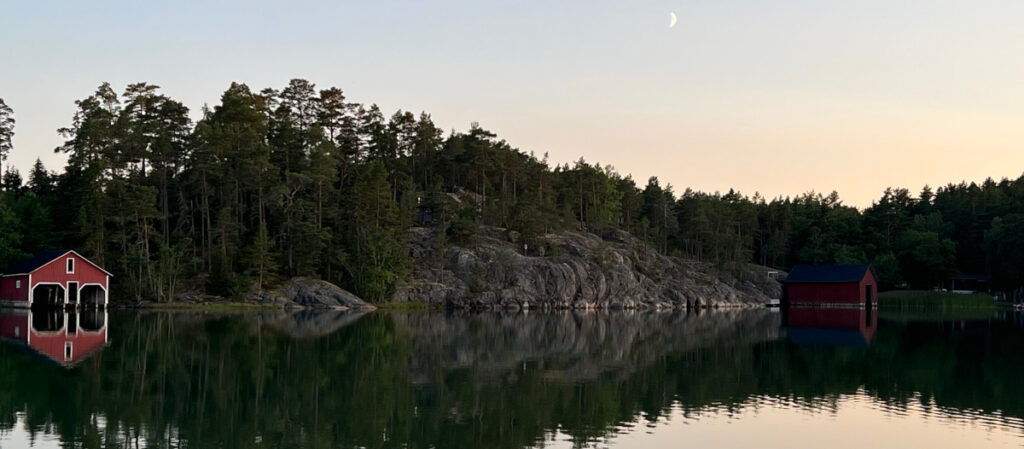 Looking at the weather forecast, we decided to sail all the way to Abo (SW Åbo, FI Turku) yesterday to avoid the rain even if the wind was to head us. Motoring the first part in light winds we started tacking east when we reached the main fairway to Abo. We managed to avoid the rain showers keeping them astern of us with a narrow margin.

We had to make some short tacks between long close reaching before we could ease the sheets towards Abo and sail in looking at very nice old houses.

Abo was the administrative centre for Finland during the almost 600 years Finland was part of Sweden (before we lost it to Russia in 1809). Abo is still an important port with a large commercial harbourand lots of ferries. The old castle, that used to guard the entrance to Aura River and the old harbour, is now well hidden behind the new harbour.

The old harbour has been converted to attractive housing.
Even if much of the people spoke Finish during the days of Swedish rule, the administrivia language was Swedish. There are still groups in many places, especially along the coast, that have Swedish as their mother tung. Around half the people we talked to spoke Swedish, the other half passable English. Finish is a (for us) very difficult language far from Western European languages.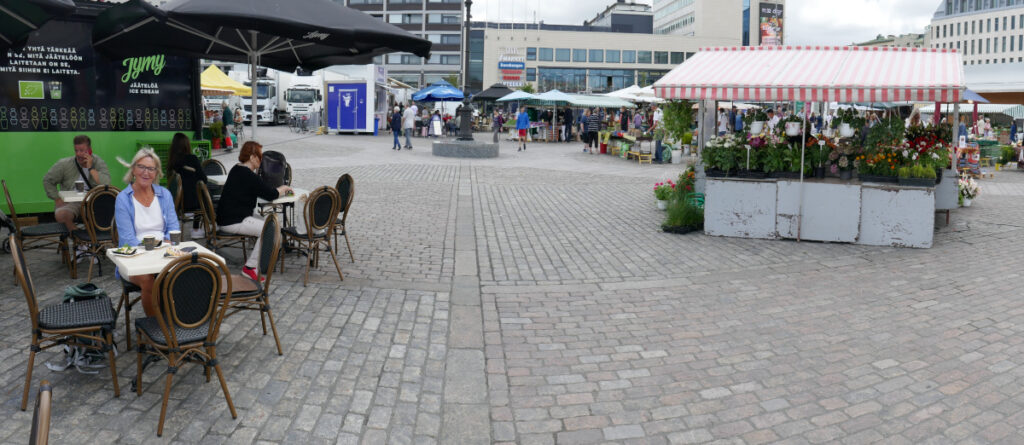 Abo is a very nice city. It has both an open market and an indoor food market. Even if the later to a large extent has been converted to restaurants and bars, one can still find high quality food there. And not far from the marina is a small pedestrian ferry boat (free of charge) that runs across the river to a supermarket, very convenient.

We normally don't post pictures of the food we eat, her is an exception. We found a friendly (Swedish speaking) fishmonger in the food market, and he sold us some local delicatesses. From left to right; cured common whitefish (coregonus) (SW sik), smoked vendace (Coregonus albula) (SW siklöjja) and a salad based on roe from northern pike (SW gäddrom) and smetana.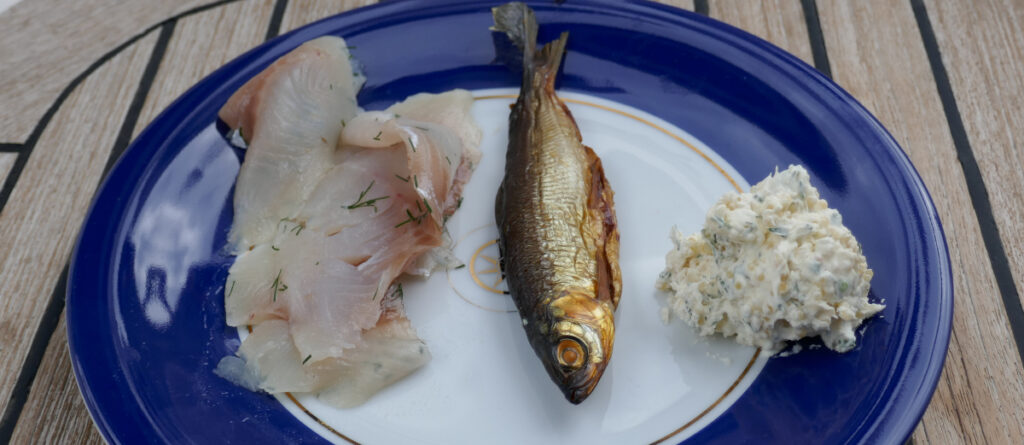 Abo became our turning point this summer. We have sailed 900 nm to get here, and it is time to turn the bow towards home. Eva has little more than two weeks left of her holidays, and we wanted to be able to sail back without having to push hard to get to a convenient railway station on the east coast of Sweden.
We stayed two nights and on the second night we had live music from a restaurant boat just far enough upriver to give us a reasonable sound level – very nice.