The wind was heading us as we left Abo – as always when we decide to start heading home. It also tends to follow the islands so when you think you might have a close reach in the next sound, the wind wears against you. We sailed in partly clouded weather and not too strong a breeze. It gave us an opportunity to fine tune our windward sailing – or rather learn how to set the autopilot to sail Sally.

We anchored for the night in Toras bay, a nice and protected bay with the usual good holding in mud/clay. It takes quite a lot of housing to clean the chain and anchor in the morning.

The Archipelago See is vast, there are islands all around us but quite far away.

The following day took us back to Aland (new curtesy flag) and Sandvik on Kokar (Kökar). Kokar is the southernmost group of islands in Aland. It is an island municipality with a population of 221 and struggling to survive.

The three main islands are connected by bridges. The bikes were unfolded the following day for a 20+ km cycle tour. The islands are rather low and easy to cycle.

We had a lovely break with coffee and Aland pancakes at Aplagard. Did some shopping on the way back.

We took a walk in the afternoon to visit an interesting 3 000 years old (bronze age) site at Otterböte. There are remains of a settlement for seal hunters where. Among other things, house foundations, animal bones and pottery shards have been found. The pottery indicates that the hunters came from the Lusatian culture in the southern part of the Baltic Sea, in present-day Poland.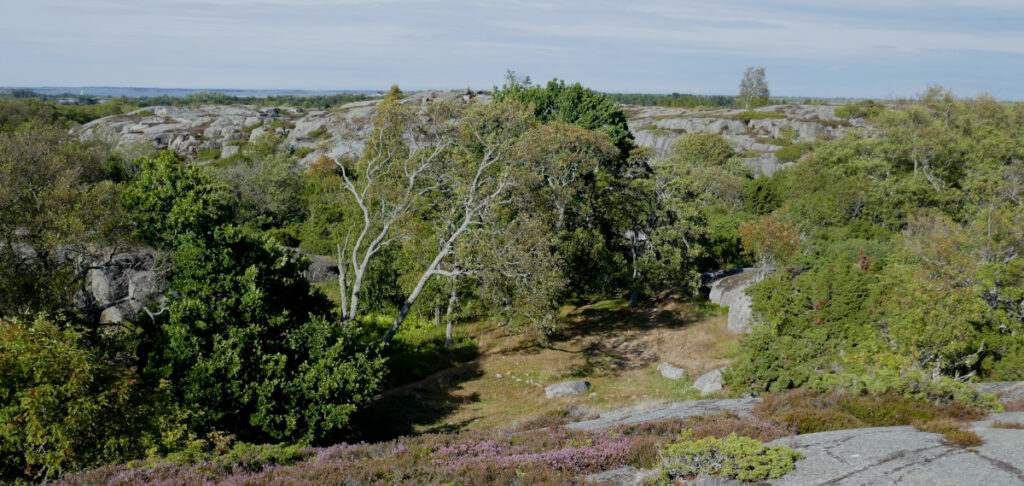 Even if the site had been used for centuries, there was not much to see except the nice glen of the site – and the view from the hill above it.