Today has been a Code 0 day with light thermal winds all day. Starting by heading us but, we have mastered the trim to windward by now so we sail almost as high (curse over ground) with the Code 0 as we do with the genoa. The wind followed the sun and the last few hours were sailed dead downwind with the Code 0 on a boom.
Today we reached the northernmost archipelago in Sweden stretching around 100 nm from Pitea to the border with Finland at Haparanda. It is consists of low laying wooded island with lots of rocky and sandy reefs. So far it has been lovely and we look forward to exploring it.
We had planned to go to a pontoon on Mosesholmen in Haraholmsfjarden outside Pitea (Piteå). But, as we approached the dock a man called from another on the other side saying it was much better there. Having sailed the Med, we are careful with promises like that so at first we were reluctant but, this is friendly Northen Sweden so we whent for it.
He helped us with the lines and explained that this was the sunny side and mooring was free for sailboats. We thanked him and invited him and his wife for a glass of whine later. It turned out that Camilla and Ove were living all year on Mosesholmen and they were experienced sailors having sailed several times to the west coast with their X-boat.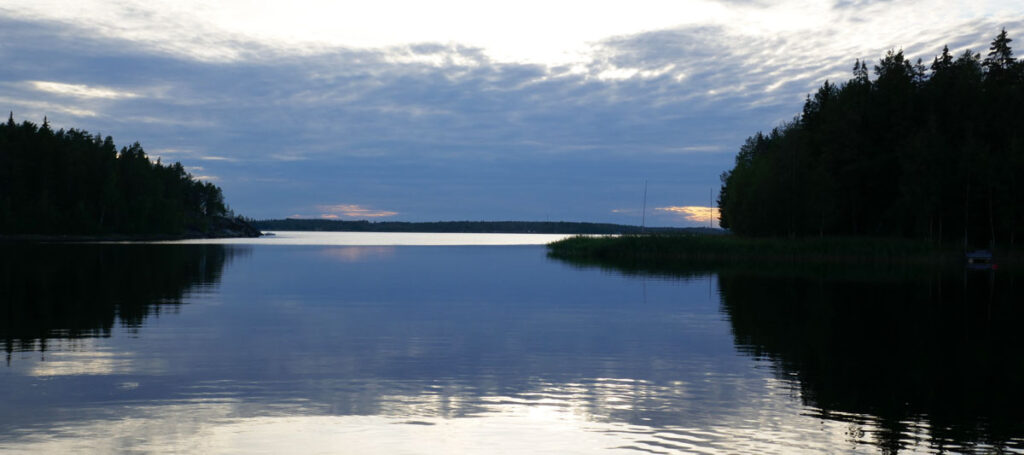 Last year they bought a farm on the mainland opposite their home and started up a café named Hildur. It has proven to be a great success being one of the few such places in the archipelago. We had a lovely evening together and hope to be able to visit again on our way back.